Introduction to Kelly & Young Wine Garden Inn
The Kelly & Young Wine Garden Inn has been a landmark in our small town for over 100 years. Nestled among the rolling vineyards of wine country, our inn offers a charming and relaxing retreat for travelers. With its wide wraparound porches, stately columns, and historic charm, our inn transports guests back to a simpler time.
As current owners, we feel fortunate to be the caretakers of such a beloved community treasure. However, maintaining a historic property comes with its fair share of challenges. From deferred maintenance to outdated amenities, we knew revitalizing the inn would be a monumental undertaking. But with a lot of vision, elbow grease, and the help of tool hire, we transformed our inn into the modern, yet still historic, retreat we had always envisioned.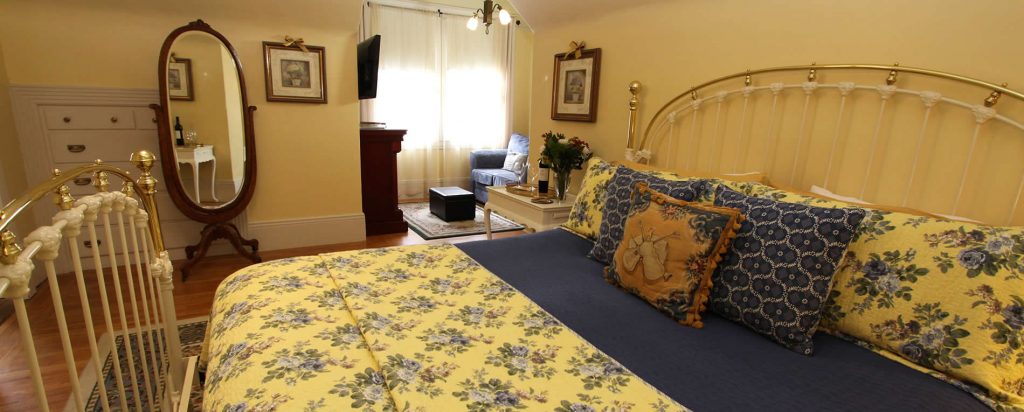 The History of Our Inn
The Kelly & Young Wine Garden Inn first opened its doors in 1898. Built in the popular Queen Anne Victorian style of the era, with gingerbread trim and rows of stately windows, the inn quickly became a popular stopover for travelers journeying through wine country.
It was originally built and operated by married couple and business partners, Elizabeth Kelly and Theodore Young. They named it the Kelly & Young Inn after their surnames and added 'Wine Garden' as a nod to the expansive gardens and vineyards that surrounded the property.
Over the decades, the inn passed through various owners. It has been everything from a speakeasy during Prohibition to a TB recovery lodge in the 1930s. In the 1950s, it was restored to its original glory as an inn and restaurant by husband and wife owners, the Willows family.
We purchased the Kelly & Young Wine Garden Inn in 2010 as first-time business owners. We were drawn to its incredible history and charming architecture but knew it needed a lot of love to restore it to its full potential. Now, over a decade later, we've finally completed that restoration through blood, sweat, tears, and the help of tool hire.
The Architectural Style of Our Inn
The Kelly & Young Wine Garden Inn is considered an excellent example of late nineteenth century Queen Anne Victorian architecture. This style was popular across America from around 1880 to 1910.
Some key features of the Queen Anne Victorian style seen in our inn include:
Asymmetrical Façade: Our inn has an asymmetrical front façade with a corner tower and wraparound porch. This avoids a boxy appearance.
Textured Walls: The exterior walls feature patterned wood shingles of different shapes, sizes, and textures. This adds visual interest.
Decorative Trim: Our inn has ornate wooden trim like spindlework, latticework, and gingerbread details along the porches and eaves.
Bay Windows: The inn has many bay windows with multi-pane glass to allow abundant natural light inside.
Steeply Pitched Roof: The inn has a steeply sloped hipped roof with multiple gables and overhangs.
Columned Porches: Sprawling porches with round columns surround parts of the first floor.
Painted Exteriors: Our inn is painted in heritage colors like sage, cream, and rust red.
Maintaining these historic architectural details while renovating proved challenging but worthwhile!
The Importance of Preserving Historic Buildings
Historic inns like ours tell the story of a community's past through architecture and design. Preserving these historic buildings is hugely important for many reasons:
Maintains the character and heritage of a place that contemporary buildings cannot replicate.
Historic buildings are often local landmarks that provide a sense of pride.
Preservation protects the craftsmanship and building methods of the past that are rarely used today.
It allows continued use and purpose rather than decay, demolition, and replacement.
Historic sites provide a tangible connection to people and events from our past.
Preserving architecture keeps tourism alive through guests seeking authentic historic stays.
It sets an important example of sustainability through continued adaptive reuse rather than destruction.
Investment in historic sites provides an economic boost through jobs, local spending, and increased property values.
For all these reasons and more, we were committed to sensitively restoring our 19th century treasure for current and future generations to enjoy.
The Role of Inns in Local History
Historic inns like ours have played an important role in both local commerce and community connection over the centuries.
In the era our inn was built, the late 1800s, many small towns did not yet have extensive lodging options. Inns offered essential overnight accommodation for travellers, salesmen, tradespeople, and others passing through remote areas.
These inns were often the first establishments built when a new town was settled. They provided a crucial community gathering place where locals could connect, share stories, and learn news from visitors. The lobby, dining room, and porches facilitated community engagement.
Innkeepers were pivotal local figures, offering food, lodging, conversation and hospitality to all. Their inns provided employment and stimulated economic growth.
During celebrations, elections, rallies and other events, inns hosted community functions in their large gathering spaces. Their stables and carriages aided travel.
While modes of travel have changed, inns are still treasured sites where tourists and locals mingle today. We are proud our inn preserves this hospitality tradition.
The Challenges of Maintaining a Historic Inn
While owning and operating a historic inn has incredible charm, we'd be remiss not to mention the very real challenges that come with maintaining a 120+ year old building.
Regular maintenance is essential but costly on an aging structure. Original materials like wood siding must be repaired and repainted frequently to avoid deterioration.
Outdated wiring, plumbing, and utilities must be updated to meet safety codes while retaining historic charm. Striking this balance is tricky.
Modernizing amenities, like installing WiFi and smart TVs, requires creative problem solving in a building not designed for it.
Adhering to strict historic preservation guidelines for modifications limits options and complicates renovations.
The layout and size of historic spaces sometimes hinders renovations or additions. Guests expect spacious updated rooms, which requires navigating tight areas.
Unforeseen issues, like rust, mold, asbestos and structural problems, often emerge during old building renovations, blowing budgets.
Accessibility requirements for guests with disabilities, like ramps and lifts, require creative solutions to integrate into historic sites.
The idiosyncrasies of old buildings makes maintenance an endless labour of love. But we believe it's all worth it in the end!
The Cost of Maintenance
Maintaining a historic 120 room inn with aged infrastructure carries major recurring costs. Here's a breakdown of our typical annual maintenance expenses:
Utilities: $142,000

Primarily heating and cooling our sprawling, poorly insulated structure

Property repairs: $92,000

Plumbing, electrical, structural, roofing, water damage, pest control

Landscaping: $64,000

Gardeners, arborists, tools, replacement trees and plants

Regular upkeep: $52,000

Painting, minor fixes, cleaning gutters and exterior

Renovations: $40,000

Ongoing upgrades of spaces and furnishings

Waste disposal: $32,000

Especially kitchen waste like cooking oil and food scraps

Safety inspections: $12,000

Fire safety, building safety, food/hygiene safety
That adds up to over $434,000 per year on essential maintenance alone, before accounting for staff, marketing, taxes, loans, etc. Maintenance costs eat up a huge portion of the operating budget of a historic hotel like ours. Proper budgeting is crucial, as is doing renovations ourselves when possible.
The Time Investment in Maintenance
In addition to the financial cost, historic building maintenance requires a tremendous ongoing time investment. Our maintenance team spends long hours each week on essential upkeep tasks like:
Inspecting the property for damage daily
Conducting preventative maintenance
Completing minor repairs immediately
Coordinating and overseeing major repairs
Arranging inspections and certifications
Supervising landscaping and gardening
Managing upgrades and renovations
Researching and sourcing materials, tools, and supplies
Cleaning exterior surfaces like roofs, gutters, siding
Touching up paint and finishes regularly
Monitoring structural integrity
Troubleshooting problems as they arise
Ensuring compliance with all codes and regulations
Documenting all maintenance efforts and expenses
This time expenditure on top of normal hotel operations represents a substantial workload. My husband and I spend at least 30 hours per week handling maintenance oversight ourselves. Our dedication ensures this historic treasure can be enjoyed for years to come.
The Role of DIY in Maintaining Our Inn
Given the costs, we quickly saw hiring contractors for every maintenance task and renovation was unsustainable. To tackle projects ourselves and save funds, DIY home renovation skills became essential.
Watching YouTube tutorials, reading DIY books, and rolling up our sleeves for trial-and-error practice became routine. Over the years, we've successfully completed do-it-yourself projects like:
Repainting the exterior
Refinishing hardwood floors
Installing new lighting fixtures
Replacing bathroom tile
Building custom furniture
Refurbishing antique decor
Upgrading kitchen appliances
Renovating guest rooms
Overseeing roof, porch and gutter repairs
Rejuvenating overgrown gardens and lawns
Some projects like major electrical and plumbing are best left to seasoned pros. But many tasks needed at our inn were within reach as owners willing to learn hands-on renovation skills. Our DIY approach has been a lifesaver for maintaining and updating our historic hotel while sticking to a budget.
Why We Chose to Do It Ourselves
As new business owners a decade ago, we could have easily hired contractors to overhaul the inn upon purchase.
But we chose a DIY approach for several key reasons:
Cost Savings: Paying contractors and tradesmen is expensive, especially on a to-do list as long as ours! DIY allowed us to stretch our renovation budget much farther.
Control: Overseeing projects ourselves meant we could choose materials and designs that suited our distinct vision and guest needs.
Pride: Nothing feels better than admiring renovations and repairs you completed with your own hands.
Knowledge: Learning DIY skills helped us become better equipped at predicting, preventing, and solving ongoing maintenance issues.
Customization: We were able to modify projects to the quirks of this old building versus follow one-size-fits-all contractor methods.
Convenience: Being on-site allowed us to tackle issues immediately as they popped up versus waiting weeks for an appointment.
Experience: Gaining first-hand renovation experience helped inform better decisions when hiring pros on big projects.
For all these reasons, taking a DIY approach to maintenance and renovations was the perfect choice for us as new business owners.
The Benefits of DIY for Business Owners
Beyond just saving money on renovations and repairs, taking on projects yourself imparts many additional benefits for small business owners like us.
Gain practical maintenance skills to tackle issues as they arise
Understand your property inside-out to make intelligent upgrade decisions
Make improvements that specifically suit your business needs
Add personal touches that reflect your brand and style
Work on your schedule instead of a contractor's
Oversee quality control on every project detail
Build confidence handling building improvement projects
Express your creativity through renovations
Problem solve hands-on when inevitable issues arise mid-project
Acquire useful skills to maintain and improve future properties
Approaching maintenance and renovations as DIY projects allowed us to put our unique stamp on the property while equipping us with problem-solving skills. The pride of saying "we did it ourselves" is the icing on the cake!
The Skills Needed for DIY
Tackling do-it-yourself renovations and repairs requires determination plus a diverse skillset. For DIY success, we needed to develop:
Handyman skills: Basic proficiency in carpentry, painting, tiling, decorating, plasterwork, and general repairs. I took community college classes to build these hands-on skills.
Design eye: An eye for spatial layouts, color palettes, fonts, furniture styles, and decor schemes. I'm the creative partner; my husband handles construction.
Research abilities: Talent for absorbing information from YouTube, reference books, trade magazines, and contractors.
Project management: Organization to coordinate timelines, sub-projects, supplies, and helpers. My husband excels at planning.
Historic preservation knowledge: An understanding of maintaining and integrating upgrades into historic buildings respectfully.
Hospitality insight: A grasp of what amenities and designs would best serve guest needs and enjoyment.
Budgeting: Meticulous tracking of project costs and choosing affordable materials without sacrificing quality.
Patience and persistence: The grit to handle projects taking longer and having more complications than expected.
Learning general home improvement skills plus specialized knowledge tailored to old buildings and hospitality has let us thoughtfully preserve this inn's historic charm.
Understanding the Scope of Our Renovation Project
When we first purchased the Kelly & Young Inn, we could have been overwhelmed by the scope of renovations needed. But we took it step-by-step:
Touring the Property: We walked the grounds to inventory needed upgrades. The wear-and-tear was apparent after decades of neglect.
Creating a Spreadsheet: Every renovation needed was detailed in a spreadsheet, along with priorities, estimated costs and timelines.
Prioritizing for Functionality: We prioritized critical repairs like roofing and unsafe kitchen wiring first before cosmetic upgrades.
Considering Long-Term Plans: How could spaces like the garden be improved to benefit guests long-term, not just quick fixes?
Researching Regulations: We researched requirements for historic sites and hospitality businesses to inform plans.
Evaluating Prior Work: Undoing poorly-done prior renovations would add time and costs to some areas.
Getting Input: Contractors assessed issues like sagging porches and outdated plumbing to understand scope and costs.
Setting Reasonable Timelines: Rather than rushing, we gave each project adequate time to do it right, for lasting results.
By thoroughly evaluating our inn top-to-bottom, we formulated feasible renovation plans tailored to this building's unique restoration needs.
Identifying Areas for Renovation
Our historic inn was worn and outdated in many ways after decades of minimal upkeep. Major areas we identified as needing renovation included:
Wiring and plumbing: The original systems were unsafe and inefficient. We needed full overhauls for guest safety and eco-friendly water use.
HVAC: The old furnace and window ACs wasted energy. New central air systems were essential to offer comfortable temperatures.
Kitchen: The outdated appliances and lack of fire suppression meant the kitchen needed a full redesign to meet legal codes.
Accessibility: There were no ADA-compliant access ramps or lifts. We wanted to accommodate all guests seamlessly.
Guest rooms: saggy mattresses, worn carpets, drafty windows and outdated decor all needed addressing to provide a welcoming, comfortable stay.
Exterior: Rotting wood, peeling paint, crumbling masonry, overgrown landscaping and a leaky roof demanded attention.
Common areas: Faded carpet, antique furniture and few power outlets didn't serve modern guest needs in the lobby, dining room and parlors.
Top-to-bottom, inside and out, upgrades were desperately needed. Careful planning helped us tackle each area methodically over time. Patience was key.
Prioritising Renovation Projects
With such an overwhelming renovation to-do list, prioritizing was crucial. We prioritized projects using these key factors:
Guest Impact: Changes that directly enhanced guest comfort, safety and enjoyment came first.
Urgency: Repairs needing immediate attention got fast-tracked, like leaking pipes or malfunctioning appliances.
Revenue Potential: Upgrades to event spaces or amenities that would significantly increase bookings were favored.
Efficiency: Some projects made sense to bundle, like re-wiring while walls were open from new plumbing lines.
Cost: More affordable updates moved up the timeline when possible.
Seasonality: Some projects like exterior painting worked best in warm, dry weather.
Schedule: Renovations requiring closure of spaces like the dining room over our slower winter season were timed strategically.
Project Learning Curve: We started with updates within our skill level, then built to more complex tasks.
Checklists and calendars kept our priorities on track to make steady progress rather than getting overwhelmed by the task list.
Planning a Renovation: Where to Start
Renovating a 120+ room historic inn can seem like an impossible task. But we found taking it step-by-step made it manageable. Our renovation planning process started with:
Creating a master checklist – Every project and sub-task was listed, from the roof down to doorknobs.
Assigning priorities – We rated projects from 1-3: absolutely essential, very important, and nice-to-have improvements.
Setting budgets – We researched pricing and allocated budget amounts to each project.
Choosing finishes and features – Selecting attractive, durable materials that suited the inn's historic style.
Developing floorplans – For bigger spaces, we mapped desired layouts and traffic flow.
Hiring contractors – For specialized work like wiring and roofing that required professional tradesmen.
Applying for permits – Any major construction requires permitting from our city planning office.
Creating a timeline – Projects were scheduled strategically, factoring in dependencies and deadlines.
Renting equipment – We determined necessary equipment rentals for each task.
Ordering materials – Renovation materials and supplies were sourced and ordered ahead of time.
Preparing spaces – Furniture was removed and areas prepped before construction dust began flying!
Hiring help – Additional laborers were brought onboard to tackle the workload.
By breaking an giant renovation into discrete steps, it transformed from daunting to totally doable. Careful upfront planning is crucial.
The Importance of a Well-Planned Renovation
In tackling major renovations yourself rather than hiring a general contractor to oversee everything, planning is absolutely crucial. Otherwise the project can quickly spiral into delays, stress, and budget overages.
Meticulous planning provides many advantages:
Avoids overlooking important tasks or sub-projects
Identifies the order in which jobs must be completed
Surfaces any required permits early enough to obtain on time
Allows time to source quality materials at the best prices
Minimizes costly errors that require re-dos
Anticipates logistical issues before they become problems
Reveals areas where professional help is needed
Keeps the project on schedule and within budget
Prepares you for variables and challenges
Maximizes workflow efficiency from start to finish
Provides documentation to track costs and timelines
While careful planning takes time upfront, it pays off exponentially in a smooth renovation. For DIY success, treating renovation like a project management exercise is crucial.
Setting a Timeline for Renovation
With a 120+ room property needing comprehensive updates, establishing a realistic timeline was essential.
We developed a high-level timeline spanning three years from start to completion. This factored in:
Completing areas with intense guest use first
Tackling seasonal outdoor projects like gardening in warm weather
Leaving bigger, dustier, more disruptive projects to our off-season
Working around our guest booking calendar
Accounting for inevitable unexpected delays and complications
Coordinating work by hired contractors
Leaving wiggle room for regular inn operations and ongoing minor maintenance
Ordering customized items like furniture several months in advance
Allowing extra time for multi-step projects like kitchen and bath renovations
Alternating taxing projects with lighter ones to avoid burnout
Our detailed calendar kept our focus on the right projects at the right times. Without diligent scheduling, juggling the scope would have been impossible.
Budgeting for a Renovation
A full-scale renovation of a historic 120+ room inn requires serious budgeting. Here's how we broke down project costs:
Labor: For tasks requiring special expertise like electric and plumbing, we invested in quality contractors to avoid safety issues. This represented our largest line item.
Materials: We tracked spending on every can of paint, box of tile, appliance, light fixture, and furnishing. Buying materials in bulk yielded discounts.
Rentals: We factored in costs for renting specialty equipment like lifts for exterior work and carpet cleaners. Renting made more financial sense than purchasing outright for one-off jobs.
Permits and fees: Any major construction requires permits and inspections. We accounted for these governmental fees in our timeline and budget.
Design help: We hired interior designers on a project-by-project basis for expert advice on layouts and decor. Their fees were well worth the results.
Incidentals: An extra 10% padding on all budgets left buffer room for unexpected expenses and price variances.
Ongoing maintenance: We continued budgeting for regular maintenance on areas not actively under renovation.
Careful itemization and contingency planning ensured our budgets accurately covered all renovation needs without cost overruns derailing the process.
The Role of Tool Hire in Our Renovation
As first-time renovators and small business owners, we were reluctant to invest in purchasing expensive specialty tools and equipment that would sit unused after projects. Tool hire solved this problem perfectly.
Saving Money: Renting tools as-needed rather than buying allowed us to put those savings into better materials.
Reducing Storage: Without needing to store excess tools long-term, we maximized space for guests and operations.
Access to Specialty Items: We could access pro-grade power tools, lifts, trenchers, and more that we'd never buy just for a one-off job.
Flexibility: We could try out many tools to determine which worked best before committing to a purchase.
Convenience: Easy tool delivery direct to our job site was a huge help on demanding renovation days.
Latest Models: Tool hire companies offered well-maintained, latest models rather than the outdated tools we could likely afford to buy.
For ambitious DIYers like us, tool rental provided cost-effective access to an arsenal of equipment otherwise out of reach. It made all the difference in achieving pro-tier results on our renovations.
Why We Chose to Hire Tools
As hands-on business owners and first-time renovators, hiring tools rather than buying outright just made practical and financial sense. Here's why it worked for us:
We lacked space to store piles of tools onsite between infrequent use
Different stages of our large renovation required varied specialized tools
Quality tools are a major investment we couldn't justify as a new small business
Owning enough tools for our scope would have been cost-prohibitive
We appreciated the flexibility of adjusting tool quantities to needs as our skills grew
Damaged or faulty rental tools could simply be swapped out rather than us eating the cost
Someone else handles repairs and maintenance for durable like-new condition
Tool companies offered expertise to help select the right tools for each job
We could try tools out without commitment before making major purchases
Established rental companies inspired confidence in quality and safety
For new DIYers like us, tool hire provided ideal access to pro equipment without the upfront investment. It made ambitious historic renovation achievable.
The Cost Benefits of Tool Hire
The cost benefits from tool hire really added up, both short and long term. Here are the key money savings we realized:
No sizable upfront expenditure to buy tools
Paying only for tools during active projects avoided waste
Ability to trial tools before buying avoided regrettable purchases
No storage space required thereby avoiding related costs
No maintenance costs for repairs, sharpening, etc.
Lack of cheap tools breaking mid-project or producing subpar results
Always having access to the latest models with newest features
Handy delivery and collection meant no rental van/gas costs to transport tools
Ability to swap out tools that got damaged onsite for free replacement
Flexibility to adjust quantities avoided both tool shortages and overages
Quantity discounts for long term rentals more than offset any volume purchase savings
Both for conserving our limited startup budget and maximizing cost efficiency long-term, tool rental delivered on all fronts.
The Flexibility of Tool Hire
The flexibility of tool hire proved invaluable on our large, multi-year, multi-phase renovation. Here's how it kept us nimble:
We could adjust tool quantities from just one or two up to entire sets as project and team size fluctuated
We adapted our tool mix and upgraded to better models as our skills improved
Whenever a better tool for a task was suggested by the hire company or other contractors, we could quickly swap it out
If certain tools ended up rarely used or ineffective, we simply returned them
When additional help joined a project, it was simple to add more tools to fit needs
We reserved tools for availability during peak demand then released unneeded ones in slower periods
Tool hire allowed us to scale equipment up or down precisely in synch with every project's unique timeline and demands
We kept tool quantities tight to avoid unnecessarily eating up valuable storage space in off-peak periods
Thanks to tool hire flexibility, we always had the right tools in the right quantities at the right times. It sure beat being saddled long term with the wrong tools purchased.
The Benefits of Tool Hire for Small Businesses
As new small business owners undertaking a major DIY renovation, tool rental offered advantages tailored perfectly to our situation:
Conserved our limited startup capital for other crucial expenses
No large upfront expenditures to purchase tools
Predictable ongoing rental costs rather than shocking one-time purchases
Ability to adjust tool quantities minimized wasted spend
Access to pro-grade equipment otherwise unaffordable for us
Perfect for our varied and changing tool needs throughout different renovation phases
No maintenance or storage costs associated with owning tools
We avoided liability and hassle if rented tools were damaged, lost or stolen
Tool hire dovetailed beautifully with the budget and logistical realities all small business owners face. It provided essential access to professional equipment that ensured our renovations didn't look DIY.
How to Choose a Tool Hire Company
Not all tool hire companies are created equal. For access to the right equipment at the right prices, we made sure to carefully vet tool rental companies using these criteria:
Reputable providers who inspire trust and confidence
Extensive selection of equipment for all project types
Both common tools plus specialty items available
Contractors' preferred rental provider for proven performance
Friendly, knowledgeable staff who can advise the best tools for each job
Timely delivery and collection options from/to our inn
Fair pricing that offers value for money invested
Well-maintained inventory in excellent working order
Modern, updated power tool models rather than outdated equipment
Good condition hand tools that feel comfortable during extended use
Labeling and organization that made finding the right tools easy
Easy ordering by phone, online or in person
Quantity flexibility and tool swaps to match evolving needs
Discounts for high-volume orders over prolonged timeframes
Taking time to find the best rental company partner ensured we had robust access to the ideal equipment throughout our renovation.
What to Look for in a Tool Hire Company
If tool hire is the right option for your maintenance and renovation needs, make sure you select the best equipment rental partner. Beyond just comparing rates, look for companies that offer:
Delivery options: Look for free delivery and collection to avoid transport hassles and costs.
Large selection: Access to common everyday tools as well as specialized equipment saves having to source multiple vendors.
New equipment: Fleets updated regularly with new models ensures you'll have the latest helpful features.
Well maintained inventory: There should be no expired inspection stickers, worn cords, or visible damage.
Good customer service: Look for tool experts ready to explain and help select the right items for each task.
Clear rates: Avoid vague pricing. Confirm fees for delivery, cleaning, damage, late return penalties, longer term discounts, etc.
Itemized billing: You should receive clear invoices listing all tools separately to track spending.
Organization: Items should be clean, labeled clearly and easy to locate quickly.
Safety: Reputable companies cover safety use, provide protective gear, and only rent well-maintained equipment.
Insurance options: Damage coverage can provide peace of mind against risks on long term rentals.
Choosing the best tool rental company made completing our renovations efficiently in a professional manner a breeze. Don't settle for less.
Negotiating Terms with a Tool Hire Company
Don't be afraid to negotiate with tool hire companies on terms that suit your unique needs. As frequent renters, we worked out deals like:
Discounted weekly and monthly rates for ongoing projects with consistent tool needs. This rewarded loyalty with lower costs.
Priority reservations to guarantee tool availability even during the busy season. They set aside our most used items.
Free delivery and collection within a 10 mile radius of the inn after we became long term customers. This saved transportation hassle and fees.
After-hours drop off and pick up so we could work around our guests' arrival and departure times. Flexible access was key.
Rush delivery within 24 hours when emergency tool needs arose. They prioritized us as regulars.
Free repairs or replacement if any damage occurred due to reasonable wear-and-tear. They stood behind their equipment quality.
Storage between use so we didn't have to return everything at project end, only pay a minimal storage fee until next phase.
Cleaning included in our rental fees rather than a separate service charge. This saved us time.
Don't be shy to speak up front with tool companies – many are happy to customize terms to win and retain your business.
Our Experience with Tool Hire
Overall, our experience through over three years of consistent tool hire during our inn renovation exceeded expectations.
We appreciated the consultative approach of discussing each upcoming project phase to identify ideal tools. This saved trial and error with wrong equipment.
The tools themselves consistently met professional quality standards – no cheap junk just because they expected DIYers. Power tools had plenty of power and life left in batteries. Hand tools felt sturdy and comfortable in extended use.
Deliveries arrived promptly as scheduled and in clean, clearly labeled condition. Nothing irks more than being left waiting around for a delayed driver when you're ready to start work.
The staff earned high marks for friendliness and knowledge to guide us in trying out new specialty tools. Advice from pros proved invaluable compared to pointless YouTube research Rabbit holes.
Returns and pickups were equally smooth. We never felt penalized or gouged for normal wear-and-tear or needing extra rental time when projects understandably overran estimates.
Overall, the tool rental company felt like an extension of our own team. The convenience of tool hire gave us ready access to pro results minus the pro expenses.
The Process of Hiring Tools
Renting tools was intuitive and hassle-free, allowing us to stay focused on the renovations. The standard tool hire process went like this:
We'd call the tool hire hotline or visit the nearest branch to discuss upcoming projects and tool needs. Their experts would suggest additions we hadn't considered.
We'd provide the delivery address, date range needed, and contact name and number onsite.
They'd reserve the dates and quantities desired and provide a quote. Usually discounts applied for weekly or monthly rentals.
The tools would be delivered clean, organized and clearly labeled by our requested date along with an invoice.
We'd sign confirming receipt and send an image of the signed delivery slip back.
During use, any service needs or add-ons could be requested by phone. Additional tools would arrive within a day. Damaged tools were swapped at no cost.
When the project wrapped up, we'd notify the company to schedule pickup. Unneeded tools could be returned earlier to stop rental fees.
Upon collection, the tools would be checked by driver and any damage assessed fairly. We'd sign off on return and receive our final invoice.
The process minimized hassle so we could stay laser focused on our renovations. Tool hire made DIY projects feel downright easy.
Dealing with Tool Delivery and Collection
As a busy inn undergoing renovations, coordinating tool deliveries and collection could have been a nightmare. Instead, our tool hire company made the process seamless.
For delivery, we specified a designated space onsite for drop-off and supplied an onsite contact name and number. Drivers called shortly before arrival so we never missed a delivery. Having mobile contact info avoided wasted trips.
Tool quantities, types and rental periods didn't need to be perfect upfront. We could add tools anytime by phone. Additional deliveries arrived next day without delaying projects.
Collection was equally smooth. We gave notice when tools were ready for pick-up to stop ongoing rental fees. If the return window was missed by a day or so when wrapping projects up, the fees were waived.
Finding used or damaged tools was no hassle. Our project foreman would isolate them labeled for drivers to quickly assess any fees due. No drawn out search wasting our time.
With a large property and guests coming and going, accommodating drivers was tricky but the tool company scheduled flexible times for our convenience.
Clear communication, understanding of our needs, and flexibility made deliveries and collections a breeze rather than a burden.
The Most Useful Tools for Our Renovation
Over three years of renovations, we used a wide assortment of hired tools tailored to each project's needs. The most useful tools included:
Demolition Tools: Sledgehammers, pry bars, and ripper claws for tearing out old materials quickly like tile floors or damaged drywall. Their brute force made demolition much less labor intensive.
Floor Removal Tools: Scrapers, nail pullers and floor strippers speedily removed old carpeting, tile and wood flooring without damaging the subfloor underneath.
Power Drills: Both cordless and corded drills were workhorses for driving screws to attach everything from drywall to roof tiles. Their speed made assembly many times faster.
Stud Finders: These pinpointed studs behind walls and ceilings perfectly to anchor shelving and light fixtures into structural framing without unnecessary holes.
Laser Levels: We used these handy tools constantly for hanging pictures, installing chair rail molding, and aligning tiles for a flawlessly straight finish.
Jigsaws: For tricky customized cuts in flooring, doorway casings, and decorative ceiling medallions, a jigsaw tool provided intricate curving capability other saws lacked.
Specialized tools: Unique additions like drain cleaners, tap threaders, and electrical testers allowed us to tackle specialized tasks we'd otherwise need to hire pros to complete.
Having the right tools for each job prevented frustrating slowdowns and enabled professional quality outcomes. Tool hire was integral.
Essential Tools for DIY Renovation
For do-it-yourself renovators, having access to certain essential tools can make or break project success. Based on our experience, the most essential tool categories include:
Demolition Tools: Sledgehammers, pry bars, and demolition hammers allow safe, quick removal of existing materials.
Power Drills and Drivers: Necessary for everything from driving screws to installing anchors and drilling holes through studs. Cordless packs allow mobility.
Hand Saws and Mitre Saws: Key for accurately cutting lumber, molding, flooring and other materials to custom sizes. Mitre saws enable angled cuts.
Hammer and Nail Sets: A must for basic carpentry tasks like framing walls, securing trim and building fixtures and furniture. A nail set finishes flush.
Stud Finder: Finds wood and metal studs behind walls to know exactly where to place screws, anchors and brackets. Prevents unnecessary holes.
Laser Level: Projects a straight laser line on surfaces for perfect horizontal/vertical alignment. Useful for installing cabinets, lighting, tile and more.
Ladders and Work Platforms: Secure ladders and scaffolds are essential for safe access to ceilings, upper walls and high exterior areas during renovations.
Sanders: Both handheld and oscillating multi-tools with sanding attachments are great for prepping surfaces like sanding floors and removing old paint.
Wrenches and Pliers: Handy for assembling and tightening anything from pipes to light fixtures. Cover standard nuts and odd sizes.
Safety Gear: Don't forget essentials like protective eyewear, masks, ear protection, gloves and steel toe boots to prevent injuries.
Having the basics covered ensures DIY projects proceed efficiently from demolition to completion. Tool rentals offer affordable access without purchase.
The Role of Power Tools in Renovation
Electric-powered tools played an indispensable role throughout our major renovation project. Here are some of the key advantages they delivered:
Quick completion of repetitive tasks: Power tools like circular saws, planers and nail guns work exponentially faster than human hands. We saved many hours of labor.
Ability to handle heavy-duty demolition: Electric jackhammers and saws tore apart old flooring and walls we never could have dismantled manually in a reasonable timeframe.
More professional quality results: Features like adjustable depth, speed and angles enabled great precision for furniture quality finishes.
Expanded range of tasks achievable: Specialty power tools like laminate trimmers and benchtop jointers let us take on projects otherwise requiring professional tradesmen.
Greater safety: Features like dust collection, guards and enhanced control reduced risk of injuries that can easily occur working with hand tools for long periods.
Easier use: Ergonomic design and lightweight materials made extended power tool use feasible without becoming exhausted like manual labor does.
Higher stamina: We could complete more tasks per day thanks to power tools handling the heavy lifting.
Doing a major renovation solo, power tools were absolutely essential to achieving professional-level results. We couldn't have done it without them!
The Role of Hand Tools in Renovation
While power tools grabbed the glory with their wow factor, hand tools played subtler but equally crucial supporting roles in our DIY renovation. Here are some of their benefits:
Precision: Hand tools allowed more control and finesse for detailed trim work compared to automated power tools. The human touch ensured quality.
Reach: Hand tools like planes and scrapers enabled removing material exactly where needed in confined spaces power tools wouldn't fit.
Touch: Through direct contact with tools like chisels and handsaws, we could feel snags and imperfections to address and ensure perfectly smooth surfaces.
Quiet: Hand tools created less noise, critical when guests were checked in nearby. Power tools were used only during unoccupied periods.
Safety: Less risk of accidents like finger injuries that can occur operating power saws and drills up close for long periods. We switched off for hand precision.
Traditional methods: Using antique hand tools inherited from family on our historic property felt meaningful, and created a period look and feel.
Independence: Hand tools allowed us to take on more tasks solo rather than having to hire specialty tradesmen. Self-reliance was empowering.
Hand tools and power tools perfectly complemented one another to deliver professional craftsmanship. Investing in quality hand tools ensured they lasted for years.
Safety Considerations When Using Hired Tools
While access to an arsenal of pro-grade power tools enabled us to tackle hefty renovation projects DIY-style, we also respected the serious risks involved. We focused on tool safety through:
Wearing personal protective equipment: Goggles, dust masks, gloves and steel toe boots were non-negotiable when tools were in use to prevent injuries.
Following operational safety: We never disabled guards, overrode safety switches or removed ground plugs that prevented hazards.
Proper handling: Power tools were carried by their handles, not cords. We didn't force tools past their capacity. We kept blades sharpened.
Avoiding distractions: Power tools have immense spinning force – we stayed alert. Music and talking was kept to a minimum.
Respecting triggers: We kept fingers off triggers until ready to make a cut. Tools weren't powered on while carrying them.
Minding extension cords: We used heavy-duty outdoor cords, taped down cords across walkways, and kept cords away from water sources.
Checking for damage: We inspected each tool thoroughly prior to use to spot any worn parts in need of repair or replacement to prevent malfunctions.
Unplugging when not in use: Tools weren't left unattended while plugged in to prevent accidental starting. We stored tools in cases.
Power tools enabled ambitious DIY work but demanded equal respect. Caution became second nature.
The Importance of Personal Protective Equipment
Operating heavy machinery and tools, demolition debris, chemicals, and other job site hazards meant investing in quality personal protective equipment. We mandated:
Safety goggles to shield eyes from sawdust, chemicals, nails and other fast moving projectiles.
Ear protection like earmuffs to prevent gradual hearing damage from sustained loud noise.
Dust masks to prevent inhaling particulates during demolition or chemicals when staining and painting.
Gloves to protect hands from blisters, splinters, sharp debris, chemicals and power tool vibrations.
Steel toe boots to prevent crushing injuries if materials or tools were dropped on feet.
Knee pads for comfort kneeling on hard surfaces for long periods for tasks like grouting and flooring.
Disposable coveralls to avoid ruining clothes and tracking dust into clean zones.
Hard hats for exterior overhead tasks like roofing.
Safety harnesses for securing ourselves when working from heights like on lift platforms.
First aid kit fully stocked on the ready for minor cuts, burns and abrasions inherent to construction work.
We had zero tolerance for skipping safety gear, no matter how uncomfortable or inconvenient it sometimes felt on hot summer days. Better momentarily overheated than injured!
Safe Use of Power Tools
Power tools speed construction tasks enormously but they must be operated safely to avoid serious injuries. We followed key power tool safety measures:
Read manuals/warnings thoroughly before use
Confirm tools have safety guards intact before turning on
Ensure bits and blades are solidly locked and right type/size for task
Wear safety goggles/earmuffs – eye injuries happen in an instant
Check for frayed cords and plugs before plugging in
Ensure ventilation for fumes if used indoors
Unplug immediately if a tool malfunctions or smokes
Wait for a power tool to stop completely before setting it down
Keep blades sharp – dull blades require more force increasing risks
Let motor cool fully between tasks to avoid burnout
Avoid distractions and stay alert when operating
Brace workpiece with clamps/vices for stability if needed
Keep power tools clean and well-maintained
Operate tools at correct speed setting for each material
Support long and wide boards fully so they don't twist of warp
Allow saws to reach full speed before cutting
Make sure the cut path stays open and free of obstructions
Keep hands/cords away from the cutting area
Maintain firm grip and control over the tool at all times
Use saw horses or tables for fatigue prevention from long use
Respecting power tools ensured they remained helpful partners, not hazardous!
Safe Use of Hand Tools
While hand tools don't grab safety headlines like power tools, they can also cause injuries with improper use. Our hand tool safety practices included:
Selecting the correct type and size of tool for each job
Inspecting for defects like cracked handles before use
Replacing any tool that's worn, damaged or bent
Keeping cutting edges sharp so tools function optimally
Using hand tools for their intended job only
Choosing a grip that allows control but avoids hand injuries if slipping
Wearing work gloves to improve grip and avoid blisters
Securing workpiece with clamps instead of hands for stability
Keeping hands/fingers out of the line of strike to avoid mishits
Applying only moderate pressure – forcing dulled tools risks damage and injuries
Maintaining awareness of surroundings – nearby people, clutter, etc
Paying extra caution once a tool becomes slippery with sweat, grease, etc
Keeping tools cleaned and stored properly to maximize lifespan
Returning damaged rental tools for immediate replacement to prevent issues
Hand tool injuries typically result from improper use and poor maintenance over time. Smart practices ensure safety.
Maintaining Hired Tools: Our Tips
Tool hire equipment is an investment for companies. Protecting that investment depends on renters also caring for gear properly during use. Our tool maintenance tips:
Treat rented tools as carefully as if they were your own purchased items
Follow all included manuals and warnings for use and care
Transport tools in protective cases whenever possible
Check tools before and after each use for damage
Report any faulty tools immediately for replacement
Clean thoroughly after every use, never return tools dirty
Wipe off all dust, dirt, grime and grease
Carefully blow out any dust in motors
Remove any stuck on residue like paint or putty
Replace any disposable parts like sandpaper discs you used up
Recharge batteries fully if cordless tools before returning
Tighten any loosened parts like chucks and collars
Wipe down then lightly lubricate metal surfaces
Box up small parts and accessories like blades and bits
Never attempt repairs yourself
With rented tools, leaving them ready for the next renter for heavy use is the goal. We aimed to return them in like-new condition.
Cleaning and Storing Hired Tools
Two key aspects of properly maintaining rented tools for return are cleaning and storage. Here are the best practices we followed:
Cleaning:
Wipe off any dirt, grease, grime and dust
Use degreaser and scrub brushes if very dirty
Carefully blow out any debris inside motors
Use alcohol wipes for any sticky residue
Replace any components you used up like pads and papers
Recharge battery packs fully ready for next user
Proper Storage:
Tools are best stored in their original cases when possible
Wrap cords loosely to avoid kinks but don't wrap overtight
Ensure accessories like bits are securely in place
Use packaging like foam or cardboard to prevent jostling in storage
Keep stored tools away from moisture which breeds rust
Don't pile heavy objects on top which can damage equipment
Return cases in the state received – no unnecessary marks/damage
Proper maintenance maximizes rental equipment lifespan and keeps costs reasonable for everyone. We aimed to be model tool renters!
Checking Tools for Damage or Wear
Before returning tools from a long renovation, we made sure to thoroughly check each item for any damage or wear requiring action on our part. Here are key points we inspected:
General:
Any cracked or gouged plastic/metal
Bent or blunted blades
Parts missing that affect operation
Rusted surfaces needing removal
Illegible labels needing replacement
Power Tools:
Frayed, worn or damaged cords
Power switch issues
Damage to plugs affecting connectivity
Noisiness indicating internal issues
Damage to battery packs
Motor vent blockages
Measuring/Optical Tools:
Calibrations remaining accurate
Optics free of fogging or scratches
Water damage to delicate electronics
By thoroughly examining each tool before pickup, we could identity any problems needing remedies like replacements or fees. This avoided unfair surprise charges.
Returning Hired Tools: What You Need to Know
After long term tool hire, organizing returns takes forethought. Here's what we focused on for a smooth wrap up:
Provide sufficient notice for pickup scheduling as returns are busiest on Mondays
Round up all tools from across the property and consolidate in one spot for drivers
Clean tools meticulously – no one wants to receive filthy equipment
Check tools thoroughly for any damage requiring repair fees
Re-box accessories like drill bits to avoid losses
Label any damaged tools clearly to streamline any needed fee assessment
Photograph any significant damage for proof and easy resolution of responsibility
Sign paperwork noting any missing accessories or damaged items
Keep receipts for potential warranty questions down the line
Provide feedback on experience to help the company continue improving service
Being organized for tool returns ensured fees were handled fairly for any normal wear-and-tear mishaps and we parted ways positively.
Checking Tools Before Return
Before our tool rental company came to collect their equipment at the end of big projects, we made sure to take time inspecting each tool thoroughly. Here is our pre-return checklist:
Power on and test functionality
Ensure all accessories are present
Check for cracked plastic casings
Assess cords and plugs for damage
Verify blades are in usable condition
Confirm calibration on measuring tools
Test for any loosening of collars, chucks, handles
Check for unusual noises indicating issues
Ensure battery packs are charged
Note any evidence of overheating
Document missing minor parts like screws
Take photos of any substantial damage
Look inside motors and vents for debris
Ensure tapes retracting and extending correctly
Wipe down thoroughly removing all dust and dirt
Taking a few minutes to methodically examine each tool saved hassles down the line. The condition confirmation created transparency.
Organising Tool Collection
After a major 3-year renovation, organizing the mass return of rented tools took concerted effort. Our tips:
Create detailed return manifest of all equipment out
** rounds up tools** from across the property into one area
Provide water access so they can be washed onsite if still dirty
Separate any damaged items clearly for easy assessment
Have an accurate invoice on hand to cross check figures
Supply invoice copies for any tools you returned incrementally
Note any tools you purchased outright over the course of rental
Label large items clearly for easy identification during loading
Provide manpower to assist drivers collecting and loading items
Ensure you receive full itemized invoice for your records
Ask for referrals to other tradesmen who partner with the company
Provide positive feedback on great service to corporate
Streamlining tool returns ensured accuracy, transparency and continued goodwill. Their future referrals sent business our way.
Our First Renovation Project: The Reception Area
When embarking on renovating our historic inn after purchasing, we decided to start with reinventing the reception area and lobby. As the first space guests see, it set the tone for their entire visit. Here were our goals:
Warm Welcome: The previous cold, dated lobby failed to create an inviting first impression. We wanted guests to immediately feel the friendly character of our inn.
Historic Charm: Removing shabby 70s carpeting revealed beautiful original wood floors. We aimed to highlight historic architectural details in a refreshed way.
Functionality: With worn furnishings and limited outlets, the prior lobby wasn't configured to accommodate modern guest needs and mobility devices. Upgrades were crucial.
Local Inspiration: We sought local art, area rugs, vintage furniture and greenery to provide an authentic wine country feel.
DIY Pride: This first project of many sparked our confidence in realizing our dreams through determination and YouTube tutorials.
Transforming the outdated reception into a warm, inviting sanctuary at the heart of the inn gave us renewed passion for restoring this historic treasure.
The Importance of the Reception Area
As many travelers' first glimpse into a hotel or inn, the reception area serves many pivotal functions beyond just checking in. Here's why we invested time and budget into thoughtfully redesigning ours:
Crafts that critical first impression – you never get a second chance. A warm, inviting reception sticks with guests.
Provides mental transition from journey into relaxation and hospitality.
Sets the tone and style for the overall inn experience.
Offers a welcoming sanctuary to unwind as keys are prepared if rooms aren't ready.
Gives guests a glimpse of the inn's overall charm and character.
The lobby reflects the history, locale and owners' personalities.
It's the only space all guests universally experience, so fine details matter.
A well-designed reception facilitates efficient operations for staff during high traffic check-ins and outs.
It's a hub where guests congregate, so ambiance encourages mingling.
A great lobby provides comfortable spaces to work or relax.
It influences reviews and feedback more than less seen spaces like rooms.
For independent inns especially, an unforgettable reception helps create a fiercely loyal clientele that returns again and again. Guests crave that magical feeling.
Designing the Reception Area
Our dated, dysfunctional reception area desperately needed a facelift. Our redesign focused on:
Layout: We opened up the space and defined separated zones for check-in, waiting, luggage storage, and restrooms. This improved flow.
Furnishings: Outdated dark heavy furniture was swapped for lighter natural wood and wicker pieces with plush cushions. Couches and chairs invited guests to relax.
Finishes: Stained concrete floors were refinished to reveal beautiful oak wood. Textured plaster walls added depth. Rugs and drapes introduced softness.
Lighting: Dim dated fluorescent bulbs were replaced with abundant incandescent lighting and adjustable spotlights to highlight architectural details.
Accessories: Locally crafted pottery, framed vintage maps, fresh floral arrangements, books and a fireplace helped tie spaces together into a cohesive palette.
Technology: Charging stations, easily accessible power outlets and high speed WiFi addressed the needs of today's travelers while hiding cords.
Every choice aimed to delight guests while facilitating efficient operations and a quintessential wine country feel. We're so proud this DIY transformation!
The Challenges of Renovating a Reception Area
Transforming the lobby presented unique challenges compared to more private back-of-house spaces. Here's how we problem solved:
Continuous operations: Check-ins couldn't be halted for weeks. Work occurred only during the early mornings and late evenings when the desk was unmanned.
Guest disruptions: Power tools and loud demolition had to happen after hours to avoid disturbing in-house visitors. Drop cloths minimized dust travel.
Logical staging: The space was completed in sections – first the seating zones, then check-in area – so closed portions didn't block access.
Material deliveries: Shipments were carefully scheduled around guest traffic to avoid cluttering entrances with boxes.
Staff input: Desk staff provided invaluable feedback on lobby frustrations to address and workflow considerations.
Contingency planning: We set up a temporary folding table check-in station if sections took longer than expected.
With careful coordination, we transformed the space with minimal disruption to operations or guest experience.
Working Around Business Hours
Renovating the lobby of an operating inn forced us to embrace the challenge of phasing construction for minimal disruption during business hours. Here are some solutions that worked for us:
Planning work in segmented zones that could be completed independently
Scheduling demolition and power tool work for evening hours after guests turned in
Masking off zones being worked on with partitions to contain mess and noise
Covering surfaces like wood flooring with ram board to prevent construction scuffs and dents
Laying noise dampening mats in work zones to muffle noise below guest rooms
Using power tools with dust collection attachments to minimize airborne particles
Sealing off lobby entrance with plastic sheeting to avoid dust traveling to reception area
Working in early mornings before breakfast crowd arrived to maximize quiet work time
Transporting materials and tools through back hallways and exits unseen by guests
Storing materials offsite then delivering directly for installation to avoid lobby clutter
Briefing staff so they could inform guests accurately on renovation phases and timelines
With coordination and commitment to minimizing disruptions, we transformed the space without sullying the guest experience.
Protecting Non-Renovation Areas
With major construction underway to transform our inn's lobby, protecting surrounding guest areas from debris and damage was critical. Here's how we maintained pristine conditions beyond the work zone:
Entrances to construction zone were sealed off with zippered plastic barriers and temporary walls
Flooring was covered end-to-end with heavy duty rambourd from work area to exit
Furnishings were shielded with drop cloths secured with painter's tape for dust control
Surfaces and carpets were covered in adjacent areas along the renovation zone periphery
Supplies and materials were kept within the sealed workspace using rolling carts
A buffer zone was established preventing storage of materials against walls of occupied spaces
Signs reminded workers to close off entrances fully when moving between areas
Work shoes were swapped out for slippers when accessing guest areas like restrooms
Tools and demolition debris were transported through back hallways, exits and lifts out of view
Covered industrial bins lined the path for immediate disposal of debris
Vacuums with HEPA filters continuously sucked up dust and particulates
Air filtration units ran 24/7 for particulate removal and fume mitigation
Protecting guest experiences amid major construction required diligence – but was well worth the effort for stellar reviews.
How We Overcame Renovation Challenges
Renovating the lobby while keeping bustling hotel operations running smoothly presented obstacles. Here's how we problem solved:
Accessibility: We built an ADA-compliant temporary ramp so the main entrance could remain open during construction.
Wayfinding: Directional signage, maps and staff helped guide guests to alternate routes around closed areas.
Noise control: Work occurred after hours. Drop cloths, mats and window coverings muffled remaining noise.
Material storage: We kept construction materials sequestered off-site then trucked them in just in time for needed phases.
Dust control: Sealing work zones, closing ducts and running air scrubbers minimized particles escaping workspace.
Oversight: Having an onsite project manager ensured issues got reported immediately before escalating.
Staff communication: Daily briefings kept staff updated on timelines and progress to inform guests accurately.
Service recovery: When minor issues occurred like brief water shutoffs, we provided guests gestures like complimentary breakfast.
Remaining solutions-focused ensured the transformation stayed on track with minimal disruption to our inn guests and staff.
Problem-Solving During Renovation
No major construction project proceeds perfectly on schedule without issues arising. Renovating our inn's reception was no different. Here's how we troubleshot problems:
Unexpected asbestos: When surprise asbestos was uncovered removing old vinyl flooring, we hired specialized abatement pros keep the project on track.
Custom item delays: Some antique lighting fixtures from overseas took months longer than expected to arrive. We found temporary replacements.
Scuffed wood floors: Water rings from leaking ice buckets marred refinished floors. We sanded and re-stained damaged planks.
Connection issues: New flat screen TVs hit connectivity problems. We hired an AV specialist to diagnose and get WiFi streaming.
Air quality complaints: Strong fumes from stripping old finishes bothered guests. We revised work hours and added airflow.
Access changing: As sections completed, we reconfigured ADA entry paths to maintain lobby access as construction progressed.
Damaged furniture: An uneven floor from old settlings cracked a newly assembled cabinet. We reinforced the base.
Remaining flexible, thinking creatively and tapping experts allowed us to mitigate inevitable hiccups during our DIY renovation journey.
The Tools That Made the Difference
Completing a lobby renovation ourselves as first-time DIYers was hugely empowering. Having the right tools for each job made the difference between frustration and success. Here are the equipment rentals that allowed us to achieve professional quality results:
Demolition jackhammer to tear up old lobby flooring quickly
Floor sander, edger and buffers for prepping new wood flooring
Laser level to ensure perfectly straight tile layouts
Power drills and drivers to install framing and drywall
Finish nailers for flawlessly securing trim without hammer marks
Pallet jack for moving heavy materials like furniture
Drywall lift for installing ceiling covers solo
Rigid foam insulation cutter for perfectly sized wall inserts
Paint sprayer for achieving smooth, consistent finishes
Specialized lighting rented in clusters for design flexibility
Without crucial equipment like this, our grand lobby vision could never have become reality. Tool rental access was a total game changer.
Our Favourite Power Tools for This Project
Completing a reception renovation ourselves required the right power tools for achieving professional-level results. Here were our MVPs:
Table Saw: This tool's precision resulted in beautifully straight cuts modifying antique furniture and millwork.
Reciprocating Saw: The angled blade reached into tight spots behind radiators when removing old materials.
Random Orbital Sander: The variable speed delivered the ideal level of finish refinement on flooring and surfaces.
Jigsaw: Tight corners and scrolling cuts were no match for the nimbleness of this versatile saw.
LED work lights: Bright portable LED lamps illuminated every nook for detailed work anywhere, especially in evenings.
Airless paint sprayer: This produced flawlessly smooth, textured finishes on walls and ceilings faster than brushes.
Compressor and nail guns: Flawless trim installations free of hammer marks were worth their weight in gold!
Having the right tools specifically suited to the challenges of this historic renovation saved us hours of work and resulted in high-end outcomes.
Our Favourite Hand Tools for This Project
While power tools accomplished the heavy lifting during our lobby renovation, having quality hand tools was still crucial for details. Our most frequently used:
Laser measure: Saved massive time versus tape measures on big layout tasks like flooring and lighting placement. Extremely precise!
Pry bars: Essential for salvaging antique doors and millwork by gently freeing them vs smashing with hammers.
Chisels: Allowed meticulous trimming of door frames and mantle edges for perfect custom fitting into openings.
Shims: A must for properly anchoring countertops, cabinets, railings and more to avoid unevenness or sagging.
Utility knives: Great for delicate materials power tools would destroy like tile or masonry. The adjustability ensured clean cuts.
Pliers: So handy for detail work like loosening rusted antique lamp fittings and reattaching wiring.
Levels: Helped us hang lighting, art and mirrors perfectly straight on old uneven walls.
Quality hand tools may not be flashy, but they allowed finesse critical for a refined finish. We constantly relied on their precision.
Before and After: Our Reception Area Transformation
When we first purchased the Kelly & Young Inn, the outdated, rundown lobby was far from an inviting introduction to guests. But armed with grit and tool hire, we totally transformed this public space into the warm, quintessential wine country hub we envisioned.
Photos of the Reception Area Before Renovation
Here are photos of some of the issues in desperate need of updating within our reception area and lobby before renovation:
Faded, threadbare wall to wall carpeting from the 70s
Outdated fluorescent overhead lighting casting an unflattering clinical glow
Dated laminate front check-in desk cluttered with wires and equipment
Uncomfortable vintage wooden lobby chairs lacking lumbar support
Blank beige walls lacking character or local flair
Limited power outlets unable to meet guest device charging needs
Cramped layout with tight choking bottlenecks
Lack of space dedicated to guest luggage and stroller storage
Photos of the Reception Area After Renovation
Here are photos showcasing the fresh, transformed new ambiance and functionality achieved in our Kelly & Young Inn lobby renovation:
Stunning exposed original wood floors refinished to a warm glow
Cozy new sitting areas with plush sofas and chairs beside a flickering fireplace
Vibrant colors and textures bringing our regional vineyard palette to life
Luxe guest rooms and inn history showcased in framed photos and artwork
Custom walnut reception desk beautifully integrating technology and lighting
Spacious new floorplan improving traffic flow and accommodating groups
Charging stations and accessible outlets meeting modern tech needs
Nature infused with lush local plants and abundant natural light
Our Second Renovation Project: The Guest Rooms
With a warm welcome established in the new lobby, next we focused renovation efforts on updating our inn's guest rooms. Our goal – provide a comfortable, inviting oasis for guests to unwind in after exploring wine country. Here's what we set out to accomplish:
Comfort: Replace rock-hard mattresses, flat pillows and itchy linens with high quality bedding to aid relaxation.
Freshness: Improve air circulation, introduce live plants, update carpets and drapes and refresh paint for renewed vibrancy.
Useful features: Add convenient USB charging outlets, full length mirrors, luggage racks, robe hooks, ironing stations and mini-fridges.
Local charm: Source local artisanal bath products and feature photography books showcasing stunning regional scenery for immersion in our locale.
Accessibility: Make half our rooms fully ADA compliant with lowered beds, grab bars, accessible baths and door handles.
A peaceful night's rest in our renewed rooms was the perfect complement to days of wine tasting and adventure.
The Importance of Guest Comfort
Our initial guest room renovations focused on comfort and relaxation. After long days of travel and activities, excellent sleep is a priority. Here's why we invested in guest room comfort:
Quality rest ensures guests awaken refreshed, ready to enthusiastically enjoy all we offer
Comfortable beds are often highlighted in reviews as a leading decision factor for travelers
Plush bedding, blackout shades and quiet HVAC creates an oasis from daily stresses
Useful touches like phone charging, robes and reading lights prevent disruption for desired items
Allergies make breathing easy a must – we installed air purifiers in every room
Different pillow options suit guests' individual preferences for firm or soft support
A relaxing atmosphere encourages extra time spent in rooms – and on property – rather than leaving
Small touches like luxurious sheets make guests feel pampered & cared for
When your business is hospitality, investing in restful rooms pays dividends through return visits and word of mouth. Our guests' comfort came first.
Designing the Guest Rooms
In conceiving our improved guest room design during renovation, we focused on both form and function. Key goals included:
Modernized furniture: We replaced bulky ornate furniture with lighter oak and metal customizable modular pieces. This opened up floor space.
Soothing natural color schemes: Cool blues and greens echoed our vineyard surroundings. Textured fabrics added cozy warmth.
Improved lighting: Layers of ambient, task and accent lighting were added for both beauty and function.
Spa-like bathrooms: Marble tile, heated floors, rainfall showers, plush robes and bath amenities transformed bathing into a rejuvenating escape.
Local art and decor: Works by regional artists were framed for walls. Area coffee table books and photography celebrated the setting.
Technology: Outlets, charging stations, smart TVs and bedside tablet controls improved connectivity and accessibility from bed.
Multi-use spaces: Modular furniture allowed repurposing areas from sleeping to dining to working flexibly.
Careful attention to aesthetics, hospitality, comfort and functionality aligned to craft an enriched guest experience.
The Unique Challenges of Renovating Guest Rooms
Upgrading amenities within occupied hotel rooms presented unique logistical challenges compared to renovating back of house areas. Here's how we problem solved:
Projects were phased floor by floor to allow guests to easily relocate during work.
Renovations occurred only on midweek nights when fewer guests were in-house.
Checkout times were adjusted earlier to maximize daily work hours in rooms.
Some noisy demolition like replacing bathtubs occurred during breakfast when guests were out.
Work paused by late afternoon to allow full cleanliness and amenity refresh before the next guest.
Supplies were kept neatly organized just inside rooms to avoid cluttering hallways.
Staffpicking up the closest house phone gave guests an outlet for any construction-related concerns.
Upgraded amenities like mattresses were boxed in packaging for easy hauling through hallways and lifts.
With careful coordination, renovations progressed smoothly with minimal disruption to in-house visitors.
Scheduling Renovations Around Bookings
Replacing tired furniture, outdated decor and flawed finishes within active guest rooms required choreographing construction tightly to avoid disrupting booked visitors. Some effective tactics we used:
Planning projects seasonally during slower weeks when fewer rooms were occupied
Reserving rooms well in advance for renovation blocks, avoiding last minute guests being displaced
Offering discount vouchers to encourage guests to rebook flexible dates if construction needed extending
Adding buffer days between guest stays and construction for thorough cleanup
Scheduling noisy demolition like replacing bathtubs around breakfast when rooms were empty
Pausing work by late afternoon to allow housekeeping time to fully prepare room for the next guest
Alternating rooms getting cosmetic updates vs infrastructure upgrades to allow guests to move between floors
Grouping rooms by project type so all carpeting or painting happened floor by floor
Managing bookings to cluster vacancies on project floors and keep booked guests together
Advance coordination ensured renovations flowed smoothly while prioritizing minimal disruption to our valued guests.
Ensuring Minimal Disruption to Guests
Keeping 120+ guest rooms feeling tranquil and undisturbed during ongoing renovations required diligent effort. Here are some of the ways we minimized impacts:
Communicating timelines and expectations clearly at check-in to avoid surprises
Scheduling noisy mechanical work like plumbing for daytime when guests were often out
Soundproofing between rooms and assigning unoccupied buffers around work zones
Offering earplugs and white noise machines for light sleepers
Providing vouchers for breakfast, spa credit and parking discounts if work caused minor disruptions
Extending checkout times and late checkouts to allow extra rest if work ran late
Adding extra staff during renovations to respond quickly to any guest needs
Quickly moving guests if issues like utility shutdowns occurred without advance notice
Keeping hallways and access paths tidy by frequently removing debris and trash
Checking with each guest daily for any concerns rather than waiting for complaints
By being proactive and solution-oriented, we aimed to maintain serenity and exceed expectations even amid significant upgrades.
How We Ensured Guest Comfort During Renovations
From noise to surprise utility shutdowns, renovations can easily disturb guests. Here are some ways we worked to maintain comfort and delight despite ongoing construction:
Providing white noise machines, ear plugs and warning signs if noisy work was unavoidable
Offering alternate rooms – or refunds – if issues like plumbing problems affected stays
Extending checkout times and sending treats like wine and fruit baskets for disruptions
Scheduling any room moves needed due to issues during housekeeping so belongings stayed put
Briefing staff on timelines so they could inform guests accurately and set expectations
Creating buffer zones in unoccupied rooms around work areas as sound buffers
Providing vouchers for breakfast or the bar if unexpected construction issues arose
Assigning staff as "construction concierges" to address concerns and provide assistance
Seeking guest input regularly to identify annoyances we could quickly rectify
Going above and beyond to maintain comfort ensured renovations didn't overshadow hospitality. We aimed to delight guests despite challenges.
Communicating with Guests About Renovations
Ongoing renovations while maintaining hotel operations requires clear, proactive communication with guests. We kept guests informed through:
Notifications during the booking process so guests knew to expect construction
Pre-arrival emails detailing timelines, impacts and progress
Check-in brochures covering renovation specifics, schedules and contacts
Lobby signage about that week's work locations and activities
Daily briefings at breakfast on the day's impacts and amenities offered
Individual discussions at checkout to get feedback about their stay experience
Room drops with project updates or noise warnings about upcoming work
Updates on our website/social media about the phased progress
Introducing "construction concierges" – staff members dedicated specifically to assist guests through renovations
Proactively informing guests set clear expectations and allowed us to quickly address concerns. Communication was key.
Offering Compensation for Disruption
No matter how carefully orchestrated, some construction disruption is inevitable when fully renovating a hotel. To maintain goodwill, we proactively offered compensation through:
Room upgrade vouchers for future visits if noise unavoidably affected a stay
Complimentary breakfast credits as an apology for early morning noise
Free appetizers or desserts for any unforeseen issues like utility shutdowns
Discounted shuttle or spa vouchers to dine and relax away from the property
Parking comped for disturbed guests forced to sleep with windows closed
Extending checkout time and late checkouts to allow extra morning rest
Waiving fees if construction delayed room readiness at check-in
Refunding one night for guests opting to check out early due to persistent issues
Paying to launder guest clothes if an unexpected plumbing leak wet belongings
Sending wine, fruit baskets or gift cards with apologies for significant issues
Fair compensation helped offset inconveniences from renovations beyond our guests' control.
The Tools We Couldn't Do Without
Renovating 120+ guest rooms ourselves required having the right tools for the job. Here were our MVPs:
Paint sprayers: High-volume projects like room painting went 10X faster with flawless consistency vs rollers.
Detail sanders: Handy for sanding and smoothing rough spots on installed drywall and wood trim.
Stud finder: Locating studs precisely to anchor heavy shelving and TVs prevented unnecessary holes in walls.
Laser level: Helped us perfectly install curtain rods, paintings and mirrors for a polished look.
Construction adhesive: Securing trim and moulding permanently without nails gave a sleek seamless finish.
Pry bar: Salvaging door casings and vintage hardware without damage was possible with gentle prying motion.
Table saw: Cross-cutting lumber and modular furniture panels for perfect fit in each unique room was a breeze.
Insulation vac: This specialty vac made quick work of removing old attic insulation for new eco-friendly batting.
Having the right tool for each challenge prevented slowdowns and enabled achieving stunning finishes. We couldn't have done it without equipment rental access!
Our Favourite Power Tools for This Project
From demolition to design, we used a wide variety of power tools to customize renovations room by room. Here were the most useful:
Reciprocating saw: Allowed quick removal of outdated tub surrounds without damaging wall integrity for new tile installations.
Jigsaw: Enabled intricate curved cuts creating custom headboards, wall accent niches and ceiling medallions from reclaimed wood.
Oscillating multi tool: The angled oscillating blades conveniently removed old adhesives and chopped through nails securing outdated fixtures and finishes.
Circular saw: Cut long planks to size flawlessly for creating live-edge vanities matching each bath's unique footprint.
Power staplers: Securing insulation, wire channels and beadboard sheeting was a cinch with robust electric staplers doing the heavy work.
Ratchet wrench set: Quick tightening and loosening of showerheads, piping, door knobs and drawer pulls during furnishing saved massive time.
The right power tools adapted to tackle each challenge enabled executing ambitious designs. Their time savings added up tremendously.
Our Favourite Hand Tools for This Project
While power tools sped through major construction, finesse finishing touches relied on having quality hand tools on hand. The ones we relied on most included:
Putty knives: Great for applying joint compound evenly into sheetrock seams and sanding smooth once dried.
Pliers: Adjusting sink and shower faucets and grabbing onto stuck fasteners during demo was quick with pliers by the sink.
Pry bar: Carefully removing baseboards and door casings whole ensured quick reinstallation after new flooring installation beneath.
Multi-bit screwdriver: Having all screw head types instantly ready allowed swift adjustments as we accessorized and tweaked furnishings.
Wood chisel set: Trimming door jambs and shaving fillers for perfectly custom fit frames helped rooms feel polished.
Caulking gun: A must for sealing all the inevitable cracks and gaps that emerge in old buildings no matter how meticulous the renovation prep.
Rubber mallet: Tapping trim and panels securely in place without marring the surface provided a professional finish.
Hand tools retained importance even on major renovations by enabling precision craftsmanship.
Before and After: Our Guest Room Makeover
After years of bandaid fixes, our outdated guest rooms were due for a facelift. By taking a thoughtful approach grounded in hospitality and comfort, we feel we succeeded in crafting rooms guests will happily retreat to after a day exploring wine country.
Photos of the Guest Rooms Before Renovation
Here are some issues we identified in guest rooms that prompted renovation:
Stained, worn carpeting from the 80s belying the modern comforts travelers expect
Poor temperature regulation from old heaters and windows
Outdated floral bedding and loud wallpaper
Scarred furniture from decades of use lacking USB charging ports
Insufficient lighting sources leaving rooms dim
Tiny dated bathrooms with limited counter space
Overall, the interiors felt tired and lived-in rather than fresh and relaxing. The bones of historic architecture remained but systems and decor demanded upgrading.
Photos of the Guest Rooms After Renovation
Here are highlights of the new style and features added during our phased guest room renovations:
Plush carpeting in soothing blue and gray tones
Vibrant gallery walls showcasing works from local artists
Upholstered headboards providing extra comfort while lounging in bed
Custom crafted furniture made from reclaimed barnwood, including wall shelving and writing desks
Spa-like bathrooms with marble tile, rainfall showers and heated floors
Technology like mounted Smart TVs and bedside climate and lighting controls
Blackout blinds and soundproofing between walls for restful sleep
The transformations added beauty and luxury while honoring the history and handmade craftsmanship of the region. Form and function were finally in sync.
Our Third Renovation Project: The Gardens
What hotel renovation would be complete without beautifying the outdoor spaces? As a historic inn, restoring the rambling gardens to their former glory took time and toil – but created an unforgettable first impression. Our garden rejuvenation focused on:
Historic accuracy: Researching archives for photos of original garden layouts and plant varieties that thrived here to replicate.
Improved functionality: Upgrading fading flagstone paths and drainage issues that caused flooding. Installing outdoor lighting for ambiance and safety.
Expanded seating: Creating secluded spaces with trellised pergolas, benches, hammocks and fire pits for gatherings or private relaxation in nature.
Interesting plant mix: Choosing flowering, fruiting and scented plants that engage all senses while attracting songbirds and pollinators.
Eco-friendly practices: Amending soil health, reducing water needs with native plants, and avoiding chemical pesticides and fertilizers.
Accessibility: Ensuring the serenity of gardens can be enjoyed by all guests through ample paved paths, low planters, and sensory elements.
This oasis adjacent to our inn provides an authentic connection to the essence of wine country – nature. Guests adore meandering these rambling grounds with a glass of local wine at sunset!
The Importance of Outdoor Spaces
Beyond mere aesthetics, hotel outdoor areas like courtyards, patios and gardens serve many valuable functions:
First impressions – exterior spaces create the all-important initial ambiance guests experience arriving on property.
Make unique memories – outdoor areas provide the perfect backdrop for unforgettable moments like proposals, anniversaries and weddings.
Local vibe immersion – gardens, plants and al fresco dining reflect the culture and climate of a destination.
Relaxation – fresh air, nature and sunlight balance the stresses of travel and life. Natural spaces calm and restore.
Event hosting – welcoming outdoor venues accommodate small weddings, corporate retreats and social functions.
Pet amenities – dogs especially appreciate having room to roam and do their business when traveling with owners.
Environmentalism – gardens support wildlife conservation and demonstrate eco-values.
When designed thoughtfully, hotel exterior spaces offer far more than just visual appeal. They directly nurture travel memories and connect guests to place.
Designing the Gardens
Our rambling two-acre gardens had declined after decades of neglect. To restore their luster we focused our design approach on:
Functional spaces: We delineated unique garden rooms like an orchard picnic area, central perennial beds, winding wooded paths and a bubbling rock fountain courtyard.
Mobility: Widening pathways to five feet, paving with firm stone dust and adding ramps made the grounds accessible for all guests.
Visual interest: A diversity of heights, textures, shapes and colors keeps gardens lively year-round. Flowering vines trail fences and arbors connect spaces.
Fragrance: Roses, lilacs, citrus trees and aromatic herbs engage the sense of smell.
Habitat: Birdhouses and feeders, rock piles for small mammals, butterfly host plants and bee nesting boxes attract wildlife.
Seating: Benches, swings, hammocks and hidden nooks provide pause points to enjoy meandering. Some are shaded.
Water features: A lily pond and babbling creek offer calming auditory landscapes. Mist cooling stations refresh guests.
Accessories: Sculptures, chimes, lanterns and stepping stones add whimsy. Signs share garden history and plant varieties.
Guests adore getting lost wandering this flourishing, enchanting oasis – it's a true extension of our hospitality.
The Importance of Maintaining Historic Gardens
Gardens require constant vigilance. But preserving historic hotel gardens like ours through careful maintenance provides added value:
They directly connect to the property's past as mature plantings that have weathered decades.
Vintage gardens offer multi-sensory experiences – textures, scents, flavors – modern designs often overlook.
When maintained impeccably, they display a visible sense of pride and care for guests.
Their full-grown scale makes a dramatic grand first impression. New plantings take years to achieve similar impact.
Vines and trees build character as they gradually shape to buildings like old friends.
They tell important stories through their evolution and resilience. Signs can share origins.
These landscapes remind us of the passage of time and continuity of care. Their age earns them respect.
Historic plant varieties are living botanical legacies to preserve. Their genetics may no longer exist elsewhere.
With thoughtful care, historic hotel gardens become treasures that enhance the guest experience through their connections to the past.
Researching Appropriate Plants and Layouts
To restore the 2-acre gardens to their original turn-of-the-century glory, extensive research was needed into period-appropriate plants and designs. Our process involved:
Visiting the county historical society to dig through archived photos for clues on past layouts and features
Speaking to longtime community members and previous property owners for their recollections of the gardens in their heyday
Finding vintage property brochures in library archives showcasing the gardens as major amenities in their prime
Reading gardening guides from the early 1900s to study popular plant varieties, aesthetics and care tips from that era
Touring other heritage gardens from the same period to visualize designs firsthand
Connecting with heirloom plant nurseries to source period varieties like heritage roses and flowering shrubs
Collaborating with a historical landscape designer to recreate a period plan honoring how the gardens originally co-existed with the architecture
Ordering tools like scythes and push mowers used in the early 1900s to uphold historic horticultural practices
Immersing ourselves in the time period ensured the renewed gardens refracted an authentic glimpse into the property's storied past. Those details transport guests.
The Role of Tool Hire in Garden Maintenance
From overgrown brush to drainage issues, returning our rambling 2-acre gardens to splendor was an enormous undertaking requiring an arsenal of equipment. Tool rental provided:
Specialty tools: Unique items like sod cutters, powered dethatchers and tree pruners would cost a fortune to buy outright for occasional tasks.
Avoiding storage: Securing onsite storage for all the landscaping tools we only need certain seasons would be challenging.
Saving money: Renting only the precise quantity of tools needed for each phase avoided unnecessary purchases.
Trying before buying: We could experiment with tools to determine effectiveness before deciding on any warranting long-term investment.
Heavy equipment access: Items like tractors, tillers, power rakes and chainsaws enabled intensive jobs like regrading pathways, removing stumps and turning over acres of soil.
Tool hire allowed us to readily access the specialized equipment required to tackle everything from drainage and layout restoration to pruning and beautification. These gardens were revived by the strength of temporary tools.
Our Favorite Garden Tools
Carefully restoring 2 acres of historic but overgrown gardens was a monumental undertaking. Here were some of our favorite landscaping rental tools that got the job done right:
Chainsaws – Swiftly removed years of woody overgrowth encroaching walkways, fences and buildings. Prevented damage from falling limbs.
Power hedge trimmers – These rapidly tamed severely overgrown foundation shrubs and privacy hedges that hand shears would take forever to trim back.
Pressure washer – Blasted years of crusted dirt from stone paths, benches and exterior brick walls to reveal their original beauty. Saved immense time and elbow grease!
Wood chipper – This convenient machine transformed yard waste into nutrient-rich mulch for pathways. Saved immense hauling fees.
Core aerator – Pulled plugs in the lawn to improve drainage and nutrient absorption. Made overseeding simple.
Soil aerator – Loosened root-choked beds for better absorption. Broke up heavy clay areas to improve drainage.
Gas pole pruner – Enabled safely and precisely trimming towering old tree branches well beyond reach of ladders. Prevented damage from falling limbs.
Having the right tool specifically designed for each unique horticultural challenge enabled us to revive these expansive historic grounds to their fully glory.
The Benefits of Power Tools in the Garden
Restoring neglected heritage gardens covering acres quickly would be impossible relying on manual labor alone. Power tools offered invaluable benefits like:
Time savings– Tools like tillers prepare soil for planting exponentially faster than human hands.
Ease large-scale jobs– Powered hedge trimmers sculpt overgrown shrubs into orderly shapes with speed and precision.
Access hard-to-reach areas– Pruners on extension poles safely trim tall tree branches that ladders can't access.
Protect durability– Power augers drill clean planting holes without compacting surrounding soil like manual digging does.
Prevent fatigue– Power rakes, edgers and vacuums reduce the fatigue of landscape chores for enhanced safety.
Enhance detail work– Precise control of powered shears creates clean lines edging lawns. They don't slip like hands.
Reduce waste– Shredders process branches, vines and debris into mulch rather than hauling for disposal.
Improve ergonomics– Well-designed power tools reduce back strain and joint pain from repetitive motions.
Prevent damage– Carefully controlling heavy tools like tillers protects surrounding plants and structures.
For renovating sizable historic gardens, power tools provided the muscle and precision needed to restore their original stately splendor.
The Benefits of Hand Tools in the Garden
Even equipped with an arsenal of power tools, quality hand tools still played important supporting roles during garden restoration. The benefits of hand tools included:
More control for delicate tasks like seed sowing and transplanting new starts
Precision for detailed hand pruning of ornamental trees and shrubs
Accessing tight spaces like edges along walls or planting beds where larger tools can't maneuver
Portability to have tools immediately handy for little touch ups while wandering the grounds
Quiet operation that doesn't disturb guests, wildlife or staff
Safety for tasks like weeding around tender seedlings prone to disturbance from vibration
Sturdiness of time-tested antique tools like scythes and sheers for slicing dense growths power tools can't handle
Nostalgia from using vintage tools that originally maintained the gardens generations ago
Sustainability of purchasing quality tools built to last lifetimes rather than disposable single-season use items
Blending hand tools with modern power equipment enabled us to balance heritage with practicality for a beautiful outcome.
Before and After: Our Garden Transformation
Neglected for decades, our rambling 2-acre gardens had become severely overgrown and dotted with dead trees and plants. With years of intensive restoration work, we successfully transformed these historic grounds back to their original early 20th century grandeur when they served as the pride of the inn.
Photos of the Gardens Before Renovation
Here are some issues we encountered assessing the 2 acres of gardens needing restoration:
Overgrown boxwoods and hedges blocking windows and encroaching buildings
Clogged lawn drainage transforming sections into muddy mosquito ponds
Overgrown vines ripping down sections of wrought iron fencing
Dead trees and limbs at risk of crashing and causing injuries/damage
Collapsed retaining walls and broken stone steps causing erosion
Invasion of weeds smothering original period plant varieties
Rock garden buried and obscured by weeds gone to seed
Overall the worn, neglected gardens had lost all sense of purpose, design and historic charm. They no longer reflected the heritage of the inn.
Photos of the Gardens After Renovation
Here are some highlights of our multi-year garden restoration project:
Structures like fencing and steps rebuilt to original architectural designs
Mature trees pruned up to open sightlines and prevent damage from falling branches
Long lost elements like stone walls, flower beds and pathways uncovered and restored
Water features added to provide tranquil auditory landscapes for relaxation
Meandering trails widened to 5 feet for ADA accessibility through the full grounds
New seating nooks, hammocks and gazebos created for guests to enjoy the scenery
Pergolas, arbors and screens added to define intimate garden "rooms" within the acres
Sculptures, lanterns, bird houses and botanical signs added as historic decor
The inn's gardens now once again live up to their original name as true wine country sanctuaries!
Our Fourth Renovation Project: The Dining Area
What better place to mingle, exchange travel stories, and savor regional cuisine than in a charming restaurant space? Gut renovating the outdated, cramped dining room provided many of our most rewarding reveals. Here's what we set out to accomplish:
Expanded seating: Removing dated partitions opened the room to accommodate more large groups. French doors lead to new patio seating.
Modernized layout: Clever storage, separate buffet and drink stations, and grab-and-go cases improved flow.
Feature lighting: Bold pendant lights, vintage sconces and table candles created a warm, romantic ambiance.
Contemporary furnishings: Mixing natural wood, iron, and upholstered dining chairs brought scale and style into balance.
Focal accent wall: Rich blues and architectural stone tile behind the buffet created visual drama.
Market style displays: Fresh local fruits, artisanal cheeses and baked goods at the buffet entice guests.
Vineyard flair: Olive barrels topping tables and wine crate room dividers added rustic hints of the surrounding wine country.
Modernizing this well-loved hub provided the perfect backdrop for creating memorable culinary experiences shared with newfound friends from around the world.
The Importance of a Welcoming Dining Area
A hotel dining room serves many more roles than just mealtime fuctionality. Here are some of the ways an inviting, well-designed space adds value:
First impressions – The style and ambiance make diners eager for the cuisine to come
Mingling – Shared tables promote meeting fellow guests and networking. Social energy feeds itself.
Reflection of the brand – The room's decor encapsulates the hotel's personality and shapes guest perceptions.
Special event venue – Having space for groups, business meals, weddings and holidays adds flexibility.
Drives guest satisfaction – Positive dining experiences boosts overall trip satisfaction and likelihood of returning.
Generational appeal – Offering both a menu and environment with broad age appeal keeps the room lively.
Local vibes – Décor and cuisine that reflects the destination offers guests a taste of place.
Promotes outlets – On-site restaurants keep guest spending in-house rather than losing it to off-site eateries.
A thoughtfully designed dining space delivers outsized benefits beyond just serving food – it builds community and shapes the guest experience.
Designing the Dining Area
To transform our inn's cramped, outdated dining area into a contemporary hospitality showcase, our design goals included:
Lighting: Install an eye-catching fixture as a dramatic focal point. Layer ambient chandeliers and wall sconces for warmth.
Focal feature: Create a textural showstopper as a bold backdrop for the buffet station. Allow it to guide the color scheme.
Accessibility: Reconfigure layout to eliminate chokepoints that impede mobility. Widen aisles between tables.
Table versatility: Purchase tables that can expand with leaves to accommodate both intimate meals or large events as needed.
Seating comfort: Choose chairs that balance style with supportive ergonomics for prolonged lingering.
Local touches: Incorporate reclaimed wine barrels, vine motifs, and imagery of the region into finishes and decor.
Multi-use zones: Designate spaces for self-serve beverages, grab-and-go snacks, private dining, and flexible community seating.
Carefully planning traffic flow, versatility, comfort, and ambiance resulted in a space guests naturally gravitate to morning, noon and night.
The Challenges of Renovating a Dining Area
Gutting and renovating the dining room of an operating inn came with logistic hurdles. Here is how we creatively problem solved:
We offered picnic breakfasts outdoors during renovation to keep a morning meal flowing.
Buffet service was replaced with plated dinners presented from a temporary rolling cart.
We arranged food delivery from a nearby restaurant to supplement limited menu options during kitchen renovation.
Closure dates were communicated well in advance so guests could plan dining out those evenings.
The work was staged meticulously – completing the back kitchen first before touching the dining room.
Noise buffers like temporary partitions sealed off loud demolition work from adjoining lobby.
Renovations occurred in the off-season to minimize occupancy impacts.
Expanded outdoor seating on our new patio could absorb some overflow when indoor capacity was reduced short term.
Forethought to keep hospitality flowing despite disruptions ensured guests continued enjoying exemplary dining experiences even amid renovations.
Working Around Meal Times
Keeping our inn's restaurant open throughout dining room and kitchen renovations took careful choreography. Here's how we worked around guest meal times:
Noisy demolition like removing old flooring happened between meal services, at night, or temporarily walled off.
Crafting a temporary grab-and-go area with snacks, fruit and beverages supplemented limited dining.
Sections were renovated sequentially – keeping 2/3rds open while 1/3rd under construction.
Outdoor patio seating expanded options when indoor capacity was reduced short term.
Reservations were spread out more with empty buffer tables to muffle noise.
Plated dinner service replaced self-serve buffets, with dishes brought in from an interim satellite kitchen.
Additional serving carts and rolling tables enabled flexible, mobile serving options.
Renovations occurred during slower seasons to minimize mealtime impacts on guests.
Staff helped direct diners to open pathways around construction zone barricades.
Careful timing, flexibility and creative serving strategies were essential for the show to go on despite behind-the-scenes renovations underway.
Ensuring Food Safety During Renovations
Extensive kitchen and dining room renovations demanded vigilance to avoid compromising food safety for guests. Our procedures included:
Closing the kitchen entirely during phases involving electrical, water shut offs, or significant demolition.
Adding handwashing stations and sanitizer buckets throughout the work zone.
Covering all surfaces encountering food contact completely with heavy construction plastic.
Sealing off works zones thoroughly with plastic sheeting to block dust and debris.
Mandating workers wear masks, gloves, hairnets and coveralls when present during active food service.
Cycling soiled floor mats every 2 hours to capture construction grime from shoes.
Keeping all tools, materials, adhesives well away from food prep and serving spaces.
Washing food that contacts sealed bags coming from renovated areas before service or cooking.
Performing thorough construction cleanups and air filtration before returning each area to food service functionality.
Scheduling mandatory health department inspections throughout the phases.
With so many moving parts, diligently maintaining sanitation standards ensured guest health was never jeopardized throughout renovations.
The Tools That Made Our Dining Area Renovation Easier
Renovating commercial kitchens and dining rooms requires professional grade equipment able to withstand daily high-volume use. Key helpful rentals included:
Concrete saw– Cut openings precisely in existing stone walls to build new pass-throughs connecting spaces. Messy work avoided inside.
Floor buffer– Polished new sealed concrete floors to a glossy shine. Removed scuffs and construction dust thoroughly.
Paint sprayer– Applied primer, accent colors and polyurethane finishes flawlessly for professional results not achievable with rollers.
Panel saw– Enabled perfectly straight cuts in plywood used for temporary room dividers and barrier walls.
Power pipe threader– Created quick watertight connections for plumbing lines like sink drain extensions.
Heavy duty drill– Powered anchors into concrete floors to securely fasten new booth benches and partition walls.
Industrial dehumidifier– Dried out flooded spaces quickly to prevent mold growth after unexpected water line leaks.
Proper tools designed for the demands of high traffic hospitality spaces saved headaches. It was worth the upfront investment to do it right.
Our Favorite Power Tools for This Project
Gutting then reconstructing a sizeable restaurant and commercial kitchen involved heavy demolition. Here are some of our MVP power tools:
Reciprocating saw– This workhorse rapidly dismantled old cabinetry, trim and exhaust hoods for quick removal. A necessity for deconstruction.
Oscillating multi tool– Allowed meticulous detail cuts around existing utilities and tight areas other tools couldn't access. Minimized damage.
Circular saw– The precise cutting power ensured new drywall, tiles and laminate flooring fit perfectly with clean edges.
Random orbital sander– Prepared surfaces like old terrazzo flooring to adhesion-ready smoothness for flawless installation of new tile.
Paint stripper heat gun– Removed years of caked on grease and dirt from kitchen walls and old vent hoods prior to repainting. A tough mess to tackle!
Compressed air nail gun– Placing trim, installing beetle kill pine wainscoting, securing acoustic panels – this tool made fast precision work of it all!
These and more specialized power tools were invaluable partners tackling the heavy prep work needed to transform these well-worn spaces.
Our Favorite Hand Tools for This Project
For all their brute force, power tools still can't replace finesse finishing jobs best completed by hand. Our most frequently used hand tools included:
Caulk gun– Sealing gaps and joints between varying floor materials and around new fixtures prevented debris and moisture from infiltrating open crevices.
Wood chisel– Carefully scoring old mortar lines when removing stone tiles prevented cracking fragile antique surfaces.
Polyurethane applicator pads– Protective coats and finishes went on smooth and bubble-free with high density foam pads vs brushes.
Door shims– Leveling doors that sagged over decades required some artful shim placement so hinges could be reset precisely.
Chalk line– Marking cut lines for new drywall, tile and flooring ensured perfectly straight aesthetic lines.
Pry bar– When old furnishings and finishes proved stubborn, some gentle pry bar persuasion avoided damage that forcing with hammers would cause.
Putty knives– Essential for seamless drywall finishing and smoothly prepping surfaces for paint adhesion.
The hand tool helpers may not be glamorous but they served crucial supporting roles keeping the work on track!
Before and After: Our Dining Area Makeover
Our inn's former dining area and bistro were embarrassingly outdated. Dark wood partitions segregated spaces gloomily. The ambiance did no justice to the delicious farm-to-table cuisine we source from local providers. But what a difference fresh design makes! See the transformation.
Photos of the Dining Area Before Renovation
Here are some issues we sought to address through an extensive dining area and commercial kitchen renovation:
Heavy wood dividers and dated wainscoting that segmented the space made it feel dark and cramped
Well-worn laminate floors looked grimy despite constant cleaning between meals
Insufficient lighting relied on dim fluorescents that cast unflattering hues on food spreadsheets
Small back kitchen made for inefficient workflow andunsafe cross-contamination risks
Overall the dining experience felt stuck in the past versus showcasing the fresh modern cuisine served. Form and function desperately needed alignment.
Photos of the Dining Area After Renovation
Here are some highlights of the dramatic dining room and kitchen transformation:
Walls knocked down to create an airy open floorplan allowing seating for 170+
Rustic wood bleach-finished tabletops with wrought iron bases to balance modern yet warm
Statement light fixtures like crystal chandeliers and pendant wine glass lamps for a celebratory ambiance
Focal textural stone-tile accent wall behind the buffet station making it a dramatic showpiece
Wine country elements like barrels, landscape photography, and olive branches incorporated throughout
Shiplap subway tile and stainless surfaces created a sleek, food-safe contemporary kitchen
The renewed spaces provide the ideal backdrop for creating exceptional wine country dining experiences for guests!
Our Final Thoughts on Our Renovation Journey
Stepping back after three long years of constant renovation work, it seems surreal seeing our formerly rundown inn transformed into the warm, welcoming retreat we always envisioned. Here are our final reflections:
Pride: Walking the polished halls, seeing historic charm blended with modern amenities fills us with immense pride at having tackled this huge project successfully ourselves.
Personal Touches: Around every corner are bespoke elements like locally sourced art that make this inn uniquely ours. No contractor could have infused such heart into the project.
Completeness: The start-to-finish coherence from a unified vision results in spaces that just "flow" intuitively unlike piecemeal contractor projects.
Knowledge: We learned so much about historic architecture, project management, hospitality and hands-on skills that will carry into future endeavors.
Confidence: After conquering a renovation of this scale mostly solo, we feel an empowering sense of self-sufficiency taking on major projects ourselves.
Value: Doing the demolition and renovations ourselves saved potentially hundreds of thousands that we could allocate to gorgeous custom finishes.
Connection: Restoring spaces with our own hands deepened our bond with the building and commitment to this business for the long term.
We're so grateful this major undertaking is complete…though a few new project ideas are already stirring!
The Lessons We Learned from Our DIY Renovation
Tackling a major historic hotel renovation as first-time DIYers on a steep learning curve, we absorbed many lessons we'll carry into future projects.
Sweat equity is real – Doing it yourself means making huge time commitments, but saves tremendously financially.
Preservation takes priority – Protecting historic architectural details should steer design choices for heritage continuity.
Quality over quantity – Tackling fewer projects at a time at a slower pace ensures care rather than a rushed sloppy finish.
Listen to the building – Pre-existing structures have opinions! Honor the original architecture and floorplan.
Expect surprises – Particularly in old buildings, unexpected issues will arise. Budget and timeline padding is must.
Perfection isn't possible – With handmade craftsmanship, embracing small imperfections gives character.
Sweat the small stuff – Meticulous finishing details make all the difference between good and great results.
Skill building takes time – Each project taught us lessons to apply to the next. Skill development is ongoing.
Maintenance never ends – Regular upkeep, tune-ups and vigilance are essential even after renovations wrap up.
Balancing act – Knowing when to do it yourself vs. hire a pro takes judgement and skipping ego.
Trust your vision – If you've done the homework, have conviction in your design plan despite naysayers.
Renovating ourselves stretched limits but proved so rewarding. Patience, perseverance and passion pave the way.
Our Biggest Successes
While exhausting at times, seeing our vision come to life through determined DIY efforts gave tremendous satisfaction. Our biggest renovation successes included:
Zoning for purpose – Creating defined spaces for distinct experiences like a check-in oasis and cozy reading lounge.
Historic authenticity – Blending original architectural details like millwork seamlessly with contemporary updates.
Embracing quirks – Highlighting unique old-world elements like a curved stone reception desk rather than replacing.
Efficient layouts – Optimized traffic flow eliminates guest congestion even at peak occupancy.
Locally inspired style – The wines, art, music and food of the region influence designs through color, texture, materials and more.
Accessibility – Nearly half our rooms now ADA compliant and the rest outfitted with stools, grab bars, and roll-in showers upon request.
High-end touches – From soaker tubs to glass chandeliers, we invested in quality focal pieces.
Built to last – The 50-100 year lifespan of materials like slate roofs and old-growth wood ensure durability.
Sustainability – Historic preservation and adapting existing buildings is the ultimate sustainability.
Blizzard: Here are my additional thoughts on the biggest renovation successes:
Improved exterior lighting – Strategically placed lighting on porches, pathways and building exteriors enhances ambiance and safety.
Expanded event capabilities – Renovated patios, lawns and interior rooms allow hosting larger functions.
Kitchen workflow – New chef-approved kitchen layouts optimized stations and storage for maximum efficiency.
Greater accessibility – Widened doorways, ramps, lifts and roll-in showers make more areas welcoming to all mobility levels.
Focus on guest comfort – Plush mattresses, soundproofing, outdoor relaxation nooks and decor all aim to relax and rejuvenate.
Safety enhancements – Upgraded railings, new fire/CO alarms, exit signage, extinguishers and slip-resistant surfaces added peace of mind.
Operational flow – Separating guest and service areas, enlarging public spaces and opening sightlines improved navigation.
HVAC and insulation – New climate control systems and ample insulation increase comfort while reducing energy costs.
Our Biggest Challenges
A renovation of this scale didn't come without some bumps in the road. Our biggest challenges included:
Deferred maintenance issues – Previous patch jobs hid bigger underlying problems that came to light, like asbestos and knob-and-tube wiring.
Design compromises – Ideal layouts sometimes had to be adapted around immovable elements like staircases or plumbing.
Managing a remote location – The rural inn required extra time traveling to source specialty materials and tools. Deliveries took planning.
Permitting delays – Navigating rounds of plan approvals, inspections and permitting through local government added months.
Contractor coordination – Overseeing electricians, plumbers and other specialty trades while also completing our own work took relentless project management.
Phasing challenges – Renovating while still operating meant constantly shuffling guests and services to minimize disruptions. Exhausting!
Working around weather – Outdoor projects relied on Mother Nature's cooperation. Inclement weather often delayed or damaged progress.
Fatigue – Balancing ambitious renovations with ongoing everyday inn operations induced bone-deep fatigue on us as owners. Respite was scarce.
Despite challenges, the chance to utterly revitalize this historic treasure energized us through long days. The rewards outweighed any bumps encountered.
Blizzard: Here are some additional major challenges we faced during renovation:
Managing budgets – Cost overruns can quickly escalate on large projects. Careful oversight of spending was crucial.
Preventing value engineering – Sticking to quality materials and design plans despite budget constraints required compromise.
Repairing outdated infrastructure – Modernizing old plumbing, electrical and structural elements took ingenuity.
Site logistics – Coordinating safe delivery and storage of materials was challenging on a property open to guests.
Minimizing noise disruptions – Containing noisy tools like jackhammers to protect guest tranquility was an ongoing battle.
Keeping spaces operative – Maintaining partial operation of spaces like the lobby and restaurant during phased renovations was complex logistically.
Preventing delays – Dependency between project sequencing meant individual delays had a domino effect.
Sourcing specialized labor – Finding qualified tradespeople available for our tight rural location proved difficult.
Meeting safety codes – Upgrading century-old construction to modern code requirements like railings and fireproofing was complicated.
Our Advice for Other Business Owners Considering DIY Renovation
For other entrepreneurs taking on renovating and upgrading their own properties, we're happy to pass on lessons from our journey!
Know your limits – Be realistic about your skill level. Seek help when a specialized expert is needed for key tasks.
Invest in quality – This is no place to cut corners on tools, materials or safety gear. Cheaping out leads to injuries, delays and inferior results.
Have a plan B – Build buffer time and backup options into plans for the inevitable unexpected issues arising.
Keep records – Document every step thoroughly including photos, invoices, subcontractor contacts and manuals. Vital for maintenance.
Design thoughtfully – Don't make changes just for trends' sake. Consider how choices affect long-term operations and branding.
Focus on ROI – Prioritize changes that will maximize revenue like event spaces over owner preference projects like repainting.
Expect mess – Major demolition and construction is messy and noisy. Be mentally prepared for a level of chaos.
Communicate changes – Inform staff, vendors and guests early regarding renovation impacts to improve compliance.
Approach renovations systematically despite the tangle of moving parts.Thorough planning prevents feeling overwhelmed when ambitions get reality tested.
The Importance of Planning
In considering a major DIY renovation, embracing the planning stage is crucial before diving into demolition. Here's why planning matters:
Ensures important steps or details are not overlooked
Identifies required permits and reviews early to build into the timeline
Surfaces potential pitfalls to problem solve in advance, like wiring rerouting needed
Allows time to source specialty materials and tools required
Minimizes costly change orders mid-project
Reveals dependencies needed to sequence steps logically
Gathers accurate quotes from subcontractors
Keeps budgets realistic when all costs are itemized upfront
Reduces safety risks when time reserved to address concerns
Makes it easier to identify items where self-performing will save costs
Results in more accurate project timelines when each step estimated
Maximizes workflow efficiency when tasks thoughtfully planned
Reduces stress when the full scope is understood from the outset
Thorough planning pads budgets, prevents delays, delivers results and keeps DIY projects on track. It all starts on paper.
The Importance of Flexibility
When embarking on DIY renovations, flexibility must accompany your plans. Here's why adaptability is key:
Unforeseen issues will arise, altering your carefully laid plans
Building inspections may require adjusting designs or timelines
Supply chain issues could delay material or tool shipments
Old structures reveal hidden defects once demolition work begins
Scope creep can emerge as exciting new design ideas crop up mid-project
Vendor errors can result in wrong items being delivered
Permits and inspections may take longer than expected, delaying progress
Subcontractor work progress may not align perfectly with your schedule
Weather delays are inevitable for exterior work and delivered materials
Unexpected worker injuries or illnesses can suspend work
Building in flex time for the unanticipated will minimize stress when the unplanned occurs
Hold plans loosely and expect to pivot. Maintaining progress requires embracing fluidity.
The Role of Tool Hire in Our Future Plans
Given our fantastic experience renting specialty tools for renovations, tool hire will remain integral executing future property improvement projects. Here's why:
Requires no upfront investment in equipment purchases
Provides ready access to the latest models with exact features needed
Eliminates storing seldom used tools long term
Allows adjusting quantities to project scope which will fluctuate
Enables trying out new unfamiliar tools before buying
Can upsize, downsize or swap tools easily as needs change
Saves the expense of repairing and maintaining owned tools
Offers easy access to rare or costly tools like laser levels
Allows focusing capital on higher quality materials vs tools
Gives peace of mind damaged tools get replaced rapidly
Frees up funds for highly qualified labor if needed
For savvy business owners, tool hire strategies just make smart financial sense both short and long term. The flexibility proves invaluable.
Future Renovation Projects
Now that our top-to-bottom renovation is finally complete, we're looking forward to a period of enjoying the refreshed inn before launching into new projects. On the horizon, plans include:
Converting an unused adjacent hay barn into a yoga studio and event venue. This will allow us to host expanded onsite functions like reunions and weddings.
Addition of a pool and pool house cabana area on the west lawn. This family-friendly amenity has been highly requested by guests.
Installation of outdoor stone firepits and Adirondack seating nooks around the grounds for guests to enjoy s'mores, stargazing and great conversations.
Remodel of the basement level into a recreational space with a wine tasting and sports lounge area. An ideal spot for rainy days and for guests seeking an activity break.
Expanded hiking and biking trails throughout our 30 acres of forests. This allows an even closer connection to the tranquil natural surroundings.
New detached luxury tiny homes adjacent to the inn to offer budget friendly accommodations for couples and individuals.
By continually improving amenities based on guest feedback, we aim to keep our historic inn experience fresh and tailored to shifting traveler interests.
How We Will Continue to Use Tool Hire
Future inn renovation and upgrade projects will undoubtedly surface new and different tool needs. Here are some ways we'll use tool hire going forward:
Testing out new tools suggested by experts rather than relying on outdated methods
To complete temporary specialized tasks outside our wheelhouse like stucco work
Allowing extra helpers access to ample tools as volunteer labor eases burnout
Accessing equipment like concrete saws and panel lifts needed only periodically
Economically maintaining a consistent workflow versus owning a vast unused inventory
To meet peak needs requiring multiples of the same tool for efficiency
For equipment difficult to transport like trenchers that enable onsite handling of septic upgrades
For potential one-off future projects like rebuilding porch railings and gazebos
Whenever old owned tools wear out, replacing with newer models via hire
To meet expanded needs as we grow the property like landscaping and trails
For all scales of projects, tool rental enables proceeding confidently by equipping us with the right gear readily.
Conclusion: The Impact of Our Renovation on Our Business
Stepping back to admire the totality of upgrades achieved over three years, we're humbled by the transformation. The improvements impact our business exponentially:
Expanded capacity – Added event venues, guest rooms and parking allow increased bookings and revenue.
Enhanced safety – Upgraded railings, lighting, exits, alarms and more provide security and confidence.
Improved reviews – Fresh, comfortable, well-equipped spaces delight guests, earning rave reviews. This drives bookings.
Increased efficiency – Updated kitchens, baths, lighting andWorkflow enhancements save on costs.
Booking flexibility – Multi-use spaces allow reconfiguring floorplans to accommodate varying group sizes as needed.
Lower maintenance – Gutting aging infrastructure means fewer upkeep repairs going forward.
Extended off-seasons – Adding amenities like pools expands bookings into shoulder seasons where previously quiet.
Doing renovations ourselves stretched capabilities and budgets, but the lasting boon to our business made the undertaking well worthwhile! This refreshed historic gem is ready to begin the next chapter of welcoming new generations of travelers seeking connection, comfort and escape. We're so proud to steward this legacy.